Fall Season Activities
Scenic Mountain Hayride:
Enjoy the beautiful fall foliage as you climb through the scenic mountain side to the top of Sculps Hill. Learn the history of the area as we climb to an elevation of 956 feet. Overlooking quaint Orwigsburg, keep your eyes open for deer and wildlife in the Christmas tree fields. This 30 minute ride will put you in a fall mood. It will be something you won't soon forget. Call us at 570.366.2619 to make your reservations!
*We ask that you arrive 45 minutes prior to your ride.
Homestead Fun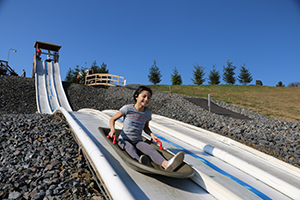 200' Mountain Slide:
Get ready for a great big thrill as you slide on the area's longest slide. Experience the heart pumping action as the slide decends 40 feet into a deep valley and then ascends to a pinnacle and rounds the curve to a gentle stop.
My Little Farm:
The My Little Farm educational inflatable structure is designed to educate and entertain toddlers in an adorable farm setting. This game offers a small climb, slide, several 3D animals and structures, such as a dog, horse, chickens, hay stack and a cactus. Sure to be a crowd pleaser among the young farmers!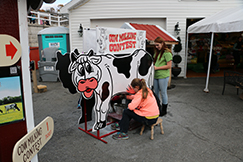 Cow Milking Contest:
This is a fun and hilarious game in which two players race to see who can get more simulated milk out of the udders. Whoever fills the bucket with the most milk is the winner!
Gone Fishing:
Test your skills fishing for the prize fish! Our new and improved Gone Fishing game is sure to "catch" your attention.
Caterpillar Crawl:
They'll line up to explore this guy! While inside venturing this activity,
they will encounter a large slide, giant teeth, strange bumps, and
baffles...adventures that will have them scurrying back for more!
*For Kiddies 125 lbs or less
Obstacle Course Bounce Houses:
Children will have the time of their life as they venture through our Obstacle Course Bounce Houses. We have 2 courses with rigorous challenges such as a simulated rock climbing wall, slide, and much more fun!
60' Tube Slide:
The slide will thrill you every time! This is the longest and highest tube slide in the area, sure to be a thrill you will want to do several times.
Corn Crib:
A fall twist on the familiar "sand box." As you jump into the
multi-colored ball pit, have fun digging and playing with the toys.
Bucking Bronco:
Feel like you are a cowboy at the rodeo! With the help of
your parent or friend, you can feel like you are a professional
Bull Rider!
Smart Farm Game:
Guests play, scan and collect game stations using their smartphones! Agricultural educaction and mobile technology combine in the SmartFarm Game! Guests learn about the nine major agricultural commodity groups by finding game stations on the farm. Guests scan QR codes with their smartphones. Each code displays educational information and then is collected by the guest's phone. When they collect all nine station codes, they are prompted to enter their email address to receive its downloadable and printable mazes for FREE!
Water Balloon Launcher:
*Just like an apple launcher, but without the bees!
You're in control of propelling speeding water balloons
at multiple targets, including buildings, mini vehicles, and so much more. Sirens will sound and animated objects will move when you hit some of our targets. Come experience the fun!
Mountain Launch:
*Just like an apple launcher, but without the bees!
You're in control of propelling speeding water balloons
at multiple targets, including buildings, mini vehicles, and so much more. Sirens will sound and animated objects will move when you hit some of our targets. Come experience the fun!
Wild West
Pioneer Express Train Rides:
All aboard for a Train Ride traveling on the Pioneer Express! Come on down to the station for this great ride thru the Christmas trees and corn field. Say hello to Jase, Jules, and Jade; our resident goats in "Goat Land". Sure to be fun for all ages!
*NOTE: NO reservations are needed for this attraction.
Horse & Pony Rides:
If you have always wanted to take a ride on one of our four legged friends, you are in luck!
Petting Zoo:
Come on over to the Farm Yard to visit our furry friends!
Ring A Duck:
Come try to ring the prize duck. As the ducks float in the pond, try to toss a ring around the prize duck! It's a "quack" of a good time!
Douglas' Duck Race:
Douglas' Duck Race brings great fun to competitors of all ages. Pick a chute and pump away. First one to the bottom wins! (Ducks are available at Snack Shack or Gypsy's Gem Mining.)
Soccer Challenge:
Score the goal at the New Soccer Challenge. Test your soccer skills at one of the newest Fall Festival activities.
Hop Along Horses:
Ready, Set, Go… Bounce away on your inflatable horse! Ride or race the hopping horses around the horse track. May the best horse win!
Gypsy's Gem Mining:
With your sense of Geology and Discovery, this is a great attraction for children and adults of all ages. As the Texans of years past panned for silver, the miners of Gypsy's Gem Mine will have a great time panning for a variety of riches such as Gemstones, Emeralds, Fossils, and Arrowheads. A special bag of mining rough, which holds a beautiful assortment of treasures, is awaiting you. This attraction offers great old nature and history fun!
Maze Central
3 Acre Tree Maze:
Adventure through the nation's first 3 acre Christmas Tree Maze. Created June 22, 2009, it has ever changing challenges and attractions featuring: the Mulch Cave, Wobbly Bridge and tunnels. Surprises await you with every twist and turn of the stone coated trails.
Funky Pumpkin Face Trace:
Young and old delight as they create pumpkin faces with the Funky Pumpkin Game. Guests take a blank 'Pumpkin" paper, then search for three stations - Eyes, Noses and Mouths. At each station they choose from (4) different options to create their very own Funky Pumpkin Face. They can match their face with the chart of all 64 possible faces and discover the Funky Pumpkin's name. They go home with a souvenir to hang on the fridge!
****Trace papers are available at the Snack Shack or Pedal Car Track****
New: The Chalk House: Who doesn't like to draw on the wall? Come check out this new exhibit and let your imagine roll.
Tot Lot Playground:
The little guys are sure to love our playground and activity area. Douglas loves to hang out in this area. Watch out for him!
Pedal Car Go-Kart:
Pedal your way through the center of the Tree Maze, wind around and have fun with your friends! Whether you are too young for a license or an experienced driver, you will have a blast!
*NOTE: For you and your child's safety, please wear closed toe shoes only to ride.
Farm Grown Pumpkins:
Pick out that perfect pumpkin and make a new family memory at the Fall Festival.
Hot Dog and S'More Roast:
Cozy up by the warm fire with a delicious smore kit in hand. You can snuggle up with your partner and tell ghost stories around the fire. This area is settled so you can sit back and watch the kids having a great time.
Weekend Entertainment:
Come join us for a wide variety of activities on selected weekends. Print our calendar of events and keep it handy to remember to visit us at Pioneer Evergreen Farms.
Make sure to bring your camera for several GREAT photo opportunities!
GREAT FALL FAMILY FUN...IN OUR COUNTRY SETTING!